Water spots....
an easy way to ruin an otherwise perfectly detailed car.
If you have just finished detailing your car, and notice water spots, chances are the water spots are fresh; meaning they have just formed from your recent wash. One reason they form is because of impurities in the water. If you use hard water you are guaranteed to have water spots if you do not dry immediately. (Try to never use hard water. If you do,
ALWAYS dry your car!!
)
You should ALWAYS dry your car
(worth repeating). If you let the water dry by itself, you can cause
SERIOUS
damage to your paint. The water will "bead" on the surface. When the sun hits this bead, it can literally act like a magnifying glass to your paint. If the bead ends up drying to the sun through this process, the edge around the water bead can
"etch"
into the paint.
TIP: To remove fresh water spots, take a solution of 50/50 water/white vinegar. This acidity of the solution will help offset the hard water.
The above consequences look like this
(take a look at where the flash is on the upper part of the fender):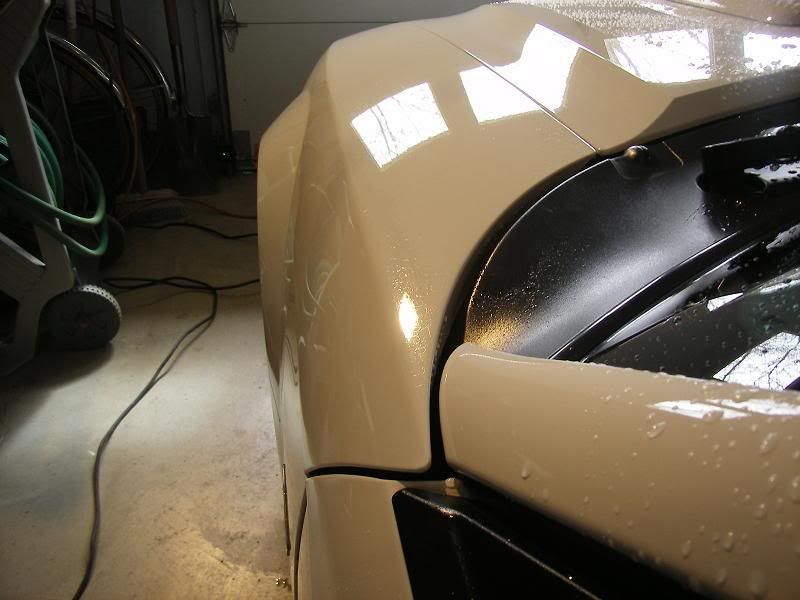 If this simple trick doesn't work, you'll have to try machine polishing and compounding.
If the water spots are years old, they may not come out from simple polishing.
Therefore, wetsanding and polishing may be your last resort.
(Process below)

The above picture of water spotting was an example where wetsanding was the only option for 100% removal.
1st step:
Soak a 1500-2500 grit sandpaper(depending on severity of spots) in water (preferably 50/50 water/vinegar. The vinegar will help with the water spots, as mentioned above, and also act as a lubricant).
2nd
Spray the area to be sanded with 50/50 water/vinegar.
3rd:
LIGHTLY wetsand the waterspotted area until the water spot etching has been removed. Use as fine of grit as possible. (Below wetsanded with 1500 grit)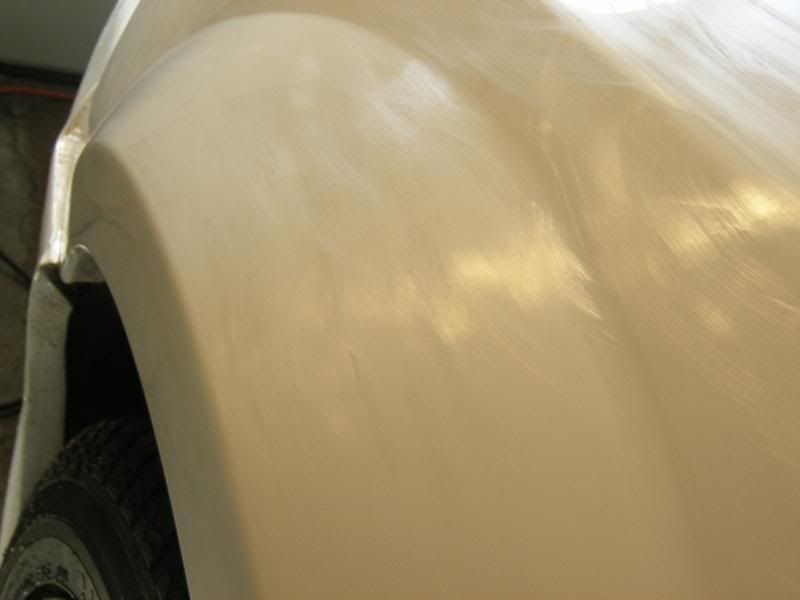 4th:
Grab you favorite machine polisher. (A porter cable 7424 will
generally
NOT be able to remove grit marks rougher [below] 1500).
Machine polish the area exactly like you would a severely swirled/scratched paint. Rough pads and rough compounds first, then moving to a rough polish/medium pad, and finishing with a finishing pad/finishing polish.
5th:
What do you think? Protect (WAX) the area and enjoy your work!

Polishing process for final outcome for above project:
XMT #4 with Yellow Edge pad on PC speed 6
XMT #3 with Green Edge pad on PC speed 6
XMT #1 with Orange Edge pad on PC speed 5-5.5
DP's MaxWax - Carnauba Wax

Outcome
(what water spots??):